froggame
Run, jump, slash and slide through this colorful adventure! As a brave frog knight, you must make it to the end of the Coastward Woods as fast as possible. However, you'll have to fight through all kinds of enemies and avoid traps to get there.

Froggame is a platformer made in two weeks as a game development challenge. Here are some back-of-the-virtual-box features!
Three different (and very cute) enemies
Mechanics like enemy-bouncing and sliding to make speedrunning fun
A really big level, including various paths with unique visuals
A stamp-based ranking system for your final score
A really well made collision system with absolutely no bugs
And awesome music made by my friend Rafa!
Controls (these are customizable so don't worry if you don't like the default ones):

A: Walk right
D: Walk left
Space: Jump in game, Confirm in the pause menu
Q and E: Slide
S: Attack in game, Down in the pause menu
W: Up in the pause menu
By the way, the game is free but donations are very appreciated <3
Download
Click download now to get access to the following files:
Comments
Log in with itch.io to leave a comment.
I slashed this little guy and died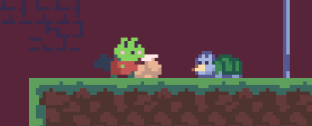 and came back and got stuck at the beginning of the level like this
oh yeah, turtgulls are unkillable, i'll make them bounce you back when you try to attack them. thanks for reporting the bug cc:
Its extremely cute and colorful (I absolutely adore the art)! Sometimes I get stuck though, and enemies don't really die. Also, for some reason I couldn't download it on the itch launcher either, so I kinda think this is a me issue. The pause menu also just got really stuck for me. I know I would love this game if only I could play it! From what I could do though, which is see the art, and hear the music, both are absolutely incredible and very fitting!



Maybe I should do this challenge...
Shoot, I'm so sorry about all of those! Collision issues are unfortunately common, though I hadn't heard about enemies. I'll try to release a new version asap, again, sorry!!
once you take that first hit and the level resets all the enemies get hit but don't leave the screen.
you don't take damage from them anymore but this only happens after the first time you get hit
thank you!! i found the bug and fixed it, the new version should be good now
Loved it! Very cute and easy to get into.
Also... loved the OST! :) :) :)
Hm... I wonder why. It's very good though!